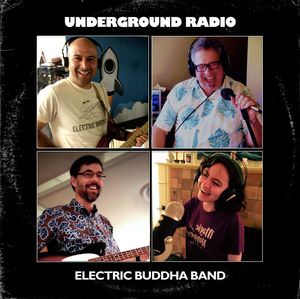 Underground Radio was created, performed and produced by The Electric Buddha Band - Zack Urlocker and Rob Castaneda. Words and music by Zack Urlocker. All music was recorded in GarageBand with $200 worth of equipment and mixed in Logic Pro X by Miles Fender of Streetlight Farm Studio. The project was fully-funded by our fans on Kickstarter.

Cast:
Joe - Rob Castaneda: All the cool guitar parts, blues solos, and prog rock stuff
Louden - Zack Urlocker: Bass, keyboards, sloppy guitar, cowbell, assorted clichés
The Creeper - Rick Greenwald: Vocals "The Creeper," "Pandora's Box," "You're Never Alone" 
Eva - Ruby Urlocker: Vocals "Any Road," "To The Underground," and more 
Eva - Louise Wo: Vocals on "Secret Lover," "Self-Made Man (Reprise)"
Additional Musicians:
Mirko: Keyboards on "Face the Music," "Escape from Mars," "When We Were Cool"
Travis Huch: Lead guitar on "You're So Special," additional rhythm guitar on "Underground Radio"
Mark Lalonde: Additional rhythm guitar on "Self-Made Man"
Brianna Lalonde: Additional vocals on "Self-Made Man (Reprise)"
Steven Leszner: Lead guitar, backing vocals on "When We Were Cool"
Mr Adams: Drums on "You're Never Alone," "#9 Overture"
Curtis "Mac" Logan: Drums on all other tracks

Cover artwork, poster and CD layout by Dustin Krcatovich. Additional Libretto artwork by Ruby Urlocker and JP de la Rama.

I am sure no one ever thought writing a rock opera was a good idea. But sometimes those are the best ideas.

Special thanks to all our Kickstarter backers especially Gregg, Aimee, Ben, Eric, Lonn, Cory, Patrick, Travis, Mike, Michael, Melanie, Gary, Matt, Marten, Dana, Alex, Sam, Dave, Jeff, Bob, Tal, Dan, Debcool, Roger, Frank for all the input and encouragement. 

Contact Info
You can contact us via email if you'd like to license our music for use in your beer or car commercial or to have us open for The Stranglers on their world tour.  

And here's the Kickstarter video that started it all...