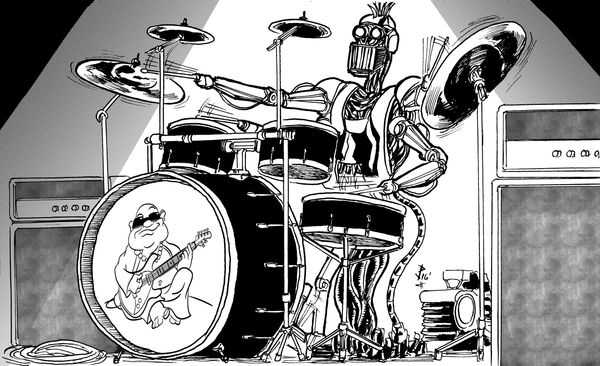 There's a cold wind blowing
Far and wide
Fifty-year winter
That'll never die
Underground Radio takes place in the distant future during a 50 year winter. Everyone is addicted to their electronic devices and the constant stream of updates. Rock music fell out of fashion decades earlier, replaced by video games, commercial jingles and computer-generated jazz.
The world is run by a handful of corporations in league with an oppressive surveillance government. The government is at war with it's own citizens, monitoring their every actions and selling the data back to the corporations. And by the way, Rock music is illegal.
There are dark forces 'round
Making desperate sounds
A young ambitious government researcher, Joe Spectrum (Rob Castaneda), is in charge of mining information from new surveillance data streams. He meets Louden Metal (Zack Urlocker), an older low-level data cleaner, and they develop an unlikely friendship.
Joe becomes disillusioned with his work when he sees how addiction to data is ruining people's lives. Louden remembers the golden era of Rock and Roll and introduces Joe to a hidden cache of musical instruments. They form a punk band called Underground Radio and begin broadcasting their music to the world to jam the government surveillance systems.
The head of the surveillance government, The Creeper (Rick Greenwald), is determined to crush the Underground Radio. He enlists a young woman, Eva Arduina (Ruby Urlocker), to infiltrate the group and report back. But Eva and Joe have their own ideas.
C'mon Eva take a chance on me
'Cuz Rock 'n' Roll will set you free

What happens to Joe, Louden, Eva and The Creeper is the story of the Underground Radio…