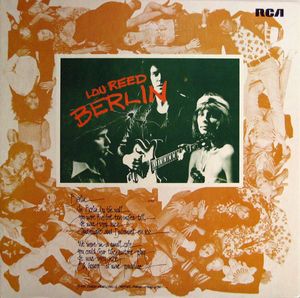 I've added several new reviews of important rock operas including Lou Reed's Berlin, David Bowie's The Rise and Fall of Ziggy Stardust & The Spiders From Mars, Greenday's American Idiot, Crack The Sky's epic Machine, Styx's band-destroying Kilroy Was Here, Wishbone Ash's concept album Argus, Klaatu's Hope, Joe's Garage, Tommy, SF Sorrow, Brainpool Junk and more.
Following on Lou Reed's Transformer, Berlin was pretty much career suicide. It's a dark album, with song cycle about two desperate characters Jim and Caroline trapped in a marriage of drugs, depression and abuse. Read all about it in More Rock Operas.
If you've got other rock operas you'd like to see reviewed, let me know! I've got a few more classic 70s albums queued up.