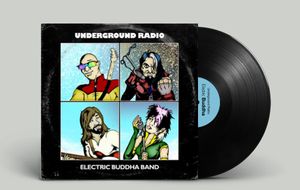 I've long felt that while Underground Radio was well mixed, it wasn't well mastered. In fact, it wasn't mastered at all. Mastering is a separate phase of production during which a talented engineer listens to your album and makes adjustments to the overall sound, as opposed to the individual instruments or vocal tracks.
It turns out that at least some of the mastering process can be automated through the use of artificial intelligence, machine learning and other buzzwords. So I used a nifty automatic service called LANDR. I think the songs came out punchier and louder. I also fixed two niggling things that bothered me in the title track and adjusted the album artwork to better show the "ring wear" of an old vinyl album. You can listen to the remastered songs here at rock-opera.com, over at SoundCloud or download them free from Box.
Here's a comparison of the original version:
And the remastered version:
Now you can definitely hear all three chords!
All of this was done in preparation for the music to be distributed digitally on iTunes, Spotify, Amazon, Google Play, YouTube, Deezer, Tidal, etc. I've used CD Baby and BandCamp for distribution. Bandcamp features embedded mp3 lyrics, a 45 page Digital Libretto and 5 bonus instrumentals all for $5.