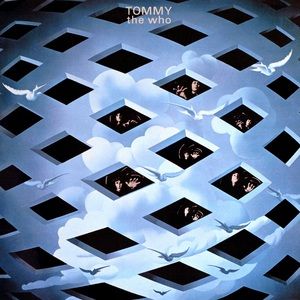 For good or for bad, for most people The Who's "Tommy" is the definitive rock opera. When I tell people I wrote a rock opera, the usual question is "You mean, like Tommy?" Yeah, like Tommy, but better.  

While I'm a fan of much of The Who's material, I can't say "Tommy" ever really clicked for me. There are some great moments for sure, and I love the theme that's repeated throughout. It's particularly rockin' on the french horn. But as a double album, Tommy clocks in at a bloated and overdone 75 minutes. With a lot of editing this would have been a fantastic single album. Still, the story is pretty good, if a bit cryptic, but it's certainly withstood the test of time. People interpret Tommy in their own personal way, which is probably what Townshend intended.

Highlights include "Overture", "Underture", "Pinball Wizard", "I'm Free", "We're Not Going To Take It". But if I never hear "Cousin Kevin" or "Fiddle About" again, it will be too soon.

Still, we owe The Who a debt of gratitude for popularizing the rock opera form in a way that no one else has before or since. But it's a shame Pete Townshend never gave credit to The Pretty Things for inventing the whole genre with 1968's "SF Sorrow."

Here's a video of The Who performing Tommy live at Woodstock.