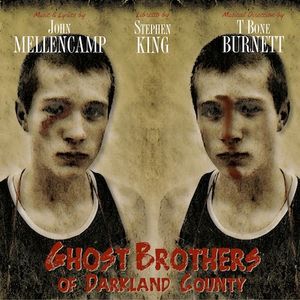 This next one is a bit of an odd-ball to me. It's not exactly a rock opera, but it's close enough to warrant examination. "Ghost Brothers of Darkland County" came together in 2013 as a joint project of John Mellencamp, Stephen King and T-Bone Burnett. Ok, that's quite a parentage right there. Their efforts yielded a star-studded band, an album, a "hardcover" box set and a touring cast. While there's some rock to this whole thing, "Ghost Brothers" is more alt-country-musical than rock opera. So it's important to judge the project on that basis, rather than comparing to a traditional rock opera like "Tommy."  If you are looking for big soaring guitar solos, this is not gonna cut it. 
But if you like the roots rock music of Mellencamp, Elvis Costello or The Blasters, then it might be right up your alley. However, before every musical number there's a dramatic exposition that takes place. It starts off with the narrator (Stephen King) introducing the tale as a back-country DJ known as the Zydeco Cowboy. These narrative elements are done well with professional actors, and they help move the story along in a way that is hard to do with just songs. But if you just want to listen to the music, you'll be hitting the skip button quite often. The songwriting, the vocals, the playing, the production are all top notch, conveying a real sense of emotion and some nice swampy southern sounds. Standout songs for me include "So Goddamn Smart,"How Many Days," "Tear This Cabin Down."  To be clear, I'm way more a fan of "alt" than "country."  Your mileage may vary. 
Personally, I find this album interesting, but, even with Elvis Costello on board, this is too far afield for repeated listening. I would consider seeing it live, but as an album, it's just not my cup of tea.