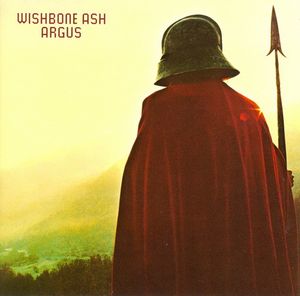 Wishbone Ash is one of those epic '70s bands that burned brightly for a few years, releasing top 10 albums, playing stadiums worldwide and then seemingly vanished. If you weren't listening to prog rock in '72 or maybe '74 you might never have heard of them. They never had a charting single in the US, no rock documentary, no "Behind the Music" MTV special, nothing. That makes it all the more surprising that 50 years later they are still recording and touring in the US and Europe.
Although Argus, their most famous and best-selling album, is not a rock opera, it comes pretty close. It's a concept album with a pretty solid unifying theme (something to do with England and uh, fighting for king and country, I think) the music more than makes up for it. Maybe one more song on theme with some characters or story and it could qualify as a rock opera, so we'll cut them some slack. It's kind of an amazing album that ranges from prog rock to folk-rock harmonies and hard rock solos with a hint of classic English blues.
Wishbone Ash pretty much invented the twin lead guitar sound which went on to influence bands like Thin Lizzy, Judas Priest, Steely Dan and even the Eagles. As mentioned, the band still records and tours, led by original guitar player Andy Powell. While they never surpassed the impact of Argus, they've had a productive career with 20 studio albums, a dozen live albums and many compilations. If you want to get a taste of the band, I recommend Argus, the compilation Time Was, and the live album Live Dates. There are some solid later albums including New England, Bona Fide, Elegant Stealth, No Smoke Without Fire.
I've seen them live on several occasions in recent years, in a small club in Michigan and they did not dissapoint. These were among the best live shows I've seen. Checkout some vintage live clips on YouTube.