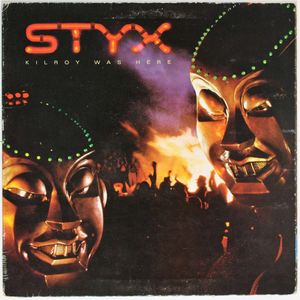 When I was in high school Styx was everywhere. They had litany of songs (or arguably the same song over and over) that landed in heavy rotation on radio, at parties and dances. I mean you couldn't avoid "Lady," Lorelei," "Light Up" etc. The songs were catchy, the guitars were good, but somehow it was all a bit cheesy. But about every twenty years I put on some Styx and I gotta admit, these songs are all pretty great. They're upbeat, positive, and musically quite sophisticated in a unique hard rock / prog genre. They're up there with ELO and far more melodic and tuneful than Yes.
The original band was formed by Dennis DeYoung and fraternal twin brothers John and Chuck Panozzo, three teenagers growing up in Chicago. They changed names a few times, went to college together and added other musicians, most notably guitarists James "JY" Young and later Tommy Shaw. It took quite a few years and several albums for Styx to really establish themselves. Their early albums didn't do very well and they were never popular with critics. But they toured relentlessly and built an audience. They were able to deliver four multi-platinum selling albums reaching their highest peak with the concept album "Paradise Theater," achieving the #1 spot, selling four million copies and delivering three top 10 singles.
And then, they decided to do a rock opera.
"Kilroy Was Here" is not a bad album. The big problem was it was largely Dennis DeYoung's baby and the rest of the band was not excited about the project. While the songwriting (and vocals) were evenly divided, the material isn't as good as their earlier album. In particular it doesn't have the hard rocking songs like "Renegade" or "Too Much Time On My Hands" or the grandiosity of "Light Up" or "Come Sail Away." The much lamented "Mr Roboto" is quite good (if a bit goofy) and "Heavy Metal Poisoning" is not bad, though it could just as easily have been by Spinal Tap.
DeYoung, undaunted, wanted to bring a bunch of rockers into a higher form of visual story telling. Their 1983 tour played to smaller theaters and included a 10 minute non-musical film to explain the plot and background to the audience. The rest of the band hated it, they were losing money and eventually Tommy Shaw, mired in drugs and alcohol, quit. 
The plot itself is pretty standard rock opera fare: Rock music is illegal, rock star Kilroy is locked up, his bandmates break him out, there's an evangelical guy they fight against, er something like that. If "Kilroy Was Here" had come before "Paradise Theater" it probably would have done reasonably well and they would have recovered. 
Unfortunately, Styx never really regained their former glory. They were on and off for a few years, with a well-received reunion tour with the entire band (including Dennis DeYoung and Tommy Shaw) but new albums were weak and they settled back into acrimony and argument when DeYoung was unable to tour due to illness.
I managed to see one of Dennis DeYoung's recent shows and it was quite good. He still has the pipes and the mad synthesizer sounds. He has a good band, but it's probably not quite the same. Styx also tours on their own with Canadian musician Gowan filling in for DeYoung. In recent shows the band started playing "Mr Roboto" in their encore, a sort of vindication for DeYoung.
The album is definitely worth a listen, as is their Greatest Hits album. And check out the video of "Mr Roboto."