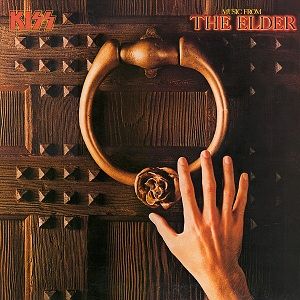 Although KISS had established themselves as highly theatrical three-chord rockers in the early '70s and rose to great heights with their "Alive" album, by the end of the decade they'd started to lose their way. By 1978 they released four solo albums at the same time, trying the patience of even the most devoted fan. They followed that with two lackluster albums the disco-infused "Dynasty" and "Unmasked." 
In order to regain control of their sagging career they decide to team up with Bob Ezrin who had produced their very successful "Destroyer" album as well as albums by Alice Cooper and Pink Floyd's "The Wall." So of course, they decided they should record... a rock opera!
"Music from the Elder" started with a comic-book level story by bassist Gene Simmons about a secret society (The Council of Elders) who every generation identify some gifted youth and mentor him to fight, ah, evil, or something. KISS set the seemingly impossible goals of gaining critical success with a rock opera while also going back to basics to bring back their most loyal fans. Sadly, they could not have picked two goals that were in more direct opposition. Maybe if KISS had better songwriting chops or really went back to their roots of three chord rock, they could have achieved success. Unfortunately, "Music from the Elder" is the worst of both worlds. Original drummer Peter Criss had left the band by then and guitarist Ace Frehley would soon follow suit.  
It's an album so bad that when presented to Casablanca Records, the company resequenced the tracks, scrambling any attempt to understand the admittedly sophomoric storyline. By any standard, what they delivered is pretty awful. It lacks the energy and straightforward rock appeal of traditional KISS hits, while failing to stand out by the measures of prog rock. The songs are bloated, boring and there's an incongruous use of strings, orchestra, choir and medieval melodies that would be more fittiing to an ELP outtake. 
The best songs from the album are "World Without Heroes" and "Mr Blackwell" but even those pale compared to KISS's better songs. I only came to appreciate KISS in the mid 90's when they did their first reunion. Because of their makeup and cartoonishness, they are in many ways an underrated band. That said, you are much better off with "Alive," one of numerous greatest hits packages, or even the 1998 reunion album "Psycho Circus" instead of this crap. 
Still, I'm happy that "Music from the Elder" exists because it was at least a small part of the motivation on my own rock opera Underground Radio. I figured if KISS could attempt a rock opera, anyone could.