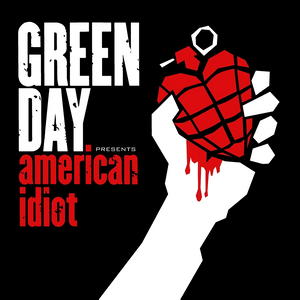 American Idiot is one of those very rare cases where a band decides to create a rock opera and it actually worked. Not only was "American Idiot" a great album, it catapulted Green Day from a niche punk band into mainstream arena rock. 
The origins of the album or very strange. In 2003, they'd finished recording an album "Cigarettes & Valentines" and the tapes went missing. Deciding it wasn't their best work, the band challenged themselves to come up with something better. With the second gulf war looming in the background, Billy Joe Armstrong wrote songs with a greater social commentary on the power of the 24/7 news media, politics and war. Despite these grand ambition, the album hits the mark.
While the overall plot is a bit thin, something to do with Jesus of Suburbia getting tired of his home town, meeting St Jimmy a punk rocker or maybe he's a drug dealer and a woman called Whatersername. Anyways, never mind the plot, the songs are among the best the band has ever done. Things kick off with the title track, a three-minute blistering political punk/pop anthem. The album produced four additional singles including "Boulevard of Broken Dreams," "Holiday," "Jesus of Suburbia" and "Wake Me Up When September Ends" and became their best-selling album ever, selling more than six million copies in the US and becoming the bands first #1 album.
The band's follow up was the 2009 release of "21st Century Breakdown" an even more complex rock opera with even more songs. While the album sold well and had several popular singles, it failed to clear the bar set by "American Idiot." 
American Idiot became a rock musical in 2009, launching in Berkeley, California and eventually landing on Broadway, London's West End and touring the world. The musical, which included participation from Billy Joe Armstrong fleshed out the story and includes additional songs from their follow up album. I managed to catch the show in Berkely and it was everything you could hope for in a live rock opera musical.
Here are a couple of video clips from their 2005 appearance at Live 8.