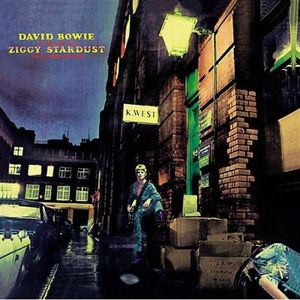 Here's a surprise: I never realized David Bowie's masterpiece "The Rise and Fall of Ziggy Stardust & The Spiders from Mars" was a rock opera. It's such a good album it stands on its own in a way that most rock operas don't. Clocking in at 11 songs in 38 minutes, it's a triumph in economy celebrating '70s wanderlust, teenage angst, alienation, and great hooky rock and roll.
This is Bowie at his most accessible and creative. He's not yet trying to slipstream his way into Eno or Motorik, he's doing his Bowie thing the way only he can do it. Best of all, he's assembled a band of absolute star musicians, longtime sidemen MIck Ronson on guitar, Trevor Bolder on bass and Woody Woodmansey on drums. Ronson's brilliant guitar riffs, tasty licks and power chords contribute greatly to the classic sound of this album.
The album tells a somewhat convoluted tale of a bisexual alien rock star who comes down to warn of earth's impending destruction and then, well, who the hell knows what happens after that. It doesn't matter. Because every song on here is great. The album kicks off with "Five Years," "Soul Love," "Moonage Daydream," Starman," and so on. Somehow Bowie crafted an album that hangs together perfectly. It's filled with great melodies, a mix of tempos and styles ranging from the R&B influenced "Soul Love," the folksy acoustic "Starman," the "wham bam" 50's boogie rock homage "Sugragette City." And then you've got the finale "Rock and Roll Suicide" a near-perfect lament to loneliness. 
Unlike a lot of rock operas (and honestly, a lot of Bowie) this album still sounds great today. It's a masterpiece, right down to the cover shot of Bowie outside a furrier shop on Heddon Street in London. 
The band embarked on an extended eighteen-month tour playing England, Europe, North America and Japan. Sadly, Bowie announced the end of the band at the end of the tour on stage at the Hammersmith Odeon, to the surprise of Woodmansey and Bolder. Here's a video from that final gig. Ziggy played guitar!