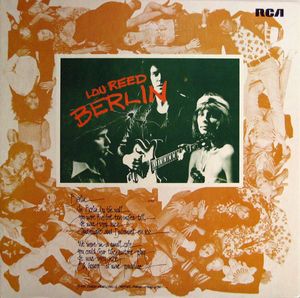 In the growing category of albums I never realized were rock operas, we must add Lou Reed's epic Berlin. This one of Reed's best and most haunting albums. It tells the story of a dysfunctional couple's struggle with drugs, depression, domestic abuse and ultimately, suicide. So, not your average feel good album.
The album was inspired by producer Bob Ezrin's question about whatever happened to the couple from the song "Berlin" from Reed's first solo album. The result is the tragic dark story of Jim and Caroline weaved over 11 songs lasting just under an hour. Ezrin, of course, is no stranger to rock operas having worked with Pink Floyd (The Wall), Alice Cooper (Welcome to my Nightmare), and KISS (The Elder). He does a great job on the production. The band on this album includes guitar greats Dick Wagner and Steve Hunter, Anysley Dunbar on drums, Jack Bruce on bass and Steve Winwood on Hammond organ. Ezrin plays some piano, but it's his kids' heartbreaking cries and screams of "mummy" that are the most provocative sounds on the entire album.
Reed reworked some older material, both from prior solo efforts as well as his time in The Velvet Underground. The songs alternate between sparse acoustic arrangements punctuated occasionally with strings and horn sections. Standout songs include the title track "Berlin," "Caroline Says II," "Oh Jim," and "Sad Song." It's not Reed's most accessible album (though nowhere near his least) but it is beautiful and harrowing at the same time.    
The album was a critical and commercial disaster, earning a not-undeserved reputation as "the most depressing album of all time" in part due to the nature of the story and perhaps in part, because you simply couldn't listen to Ezrin's kids' screaming on "The Kids" without a feeling of gut-wrenching sadness. So you could say, the album succeeded greatly in what it set out to do.
Nonetheless, over the years, the album's reputation improved. Reed finally toured the album in 2007 at the age of 65, along with Bob Ezrin, a thirty-piece band and full choir. The album Live from St. Ann's Warehouse and the film Lou Reed: Berlin capture the show. Sadly, Reed's vocal performance, never strong to begin with, is barely above a croak at this point, marring an otherwise wonderful production. 
Check out the video from a live performance below.