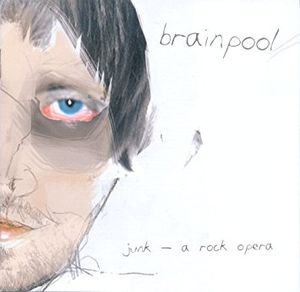 I happened to stumble across the song "This is Junk" by Brainpool while listening to a running podcast back in 2008. It's a catchy number that sounded to me like Ted Leo and the Pharmacists with a top-40 radio vibe. After digging further I discovered that Brainpool was a 90's postpunk pop group from Sweden who had several hits in the early 1990s, but ditched it all in 2000 to write a rock opera called "Junk" on the growing commercialism in society. This was a labor of love that took Brainpool four years to complete. And it's an absolute masterpiece.
The result was a stunning work reminiscent of the best of the concept albums from the 70's and 80's. Brainpool combined classic rock hooks in the style of The Who, The Clash, Oasis, Pink Floyd, ELP, Queen, David Bowie --and Ted Leo. Not only is the music good, it's eery; like finding a rare unreleased bootleg from a supergroup of classic rock veterans. Brainpool performed "Junk" live with the Malmo Symphony Orchestra in 2005 and then... they broke up.
Unfortunately Brainpool never found much success outside of Sweden. Maybe the toil of working on a rock opera for four years was too much. "Junk" had a live run in LA and a more limited performance in New York, but sadly the band appears to be on a semi-permanent hiatus. There have been rumors of another album but nothing has come other than the occasional Christmas song.

While you won't find the CD in the racks at your local musical retailer, you can get it at Amazon, iTunes, etc. To me "Junk" is one of the greatest rock operas ever and a definite source of inspiration for "Underground Radio".  Some of the highlights include "Anybody Home?", "What Have I Done and Why Have I Done It?", "Who's That Man?"

There are a couple of videos on YouTube if you want to give it a listen.