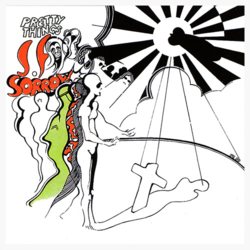 If you ask most people to name a rock opera, they'll probably come up with "Tommy" and not much else. Until recently, I had assumed The Who's "Tommy" was not only the definitive rock opera but also the first. But as I learned listening to the public radio show SoundOpinions, Pete Townshend was beat out by a year with a release of the album "S.F. Sorrow" by the UK band The Pretty Things. 
The Pretty Things started out as a typical UK R&B band with a claim to fame of being hairier, dirtier and raunchier than The Rolling Stones. The Pretty Things' first two albums ("The Pretty Things", "Get the Picture" both released in 1965) are steeped in American rhythm & blues with cranked-up fuzz guitar. The music is not to everyone's taste, but if you like '60s garage rock sound, it's brilliant. By their fourth album they were stretching beyond the form and had the idea to create a collection of songs that told a story. 
S.F. Sorrow was recorded at famed Abbey Road studios in London, in 1967 where the Beatles and Pink Floyd were also recording. The music and production is definitely of an era; if you can get past the occasional sitar, woodwinds and backwards tape studio effects, it's a brilliant album that combines melody, lush vocal harmonies, and psychadelic garage rock full-gain Marshall stack guitar solos in ways that I'd never imagined before. It makes S.F. Sorrow a tremendous discovery. Many of the songs sound like they could be from some long lost Beatles bootleg session. Standout cuts include "S.F. Sorrow is born", "She Says Good Morning", "Balloon Burning", "Baron Saturday", "The Journey" and "I See You."  Also "Mr Evasion." And "Talkin' About the Good Times." Ok, I like almost everything on this album.  There are a few clunkers for sure, but overall these fit in with to the broader '60s context and make the best songs stand out even more. 
Alas, S.F. Sorrow album got little support in America. The band continued to record for many years, with a somewhat evolving crew of band members. They remained a successful cult band with a dedicated fan base. After 55 years of recording and touring, they performed their final concert in 2018 featuring special guests David Gilmour and Van Morrison. Sadly, lead singer and chief songwriter Phil May passed away in 2020. 
The Pretty Things never really got the recognition they deserved for their early blues-based albums, their pioneering pyschadelic sound or their creation of the first ever rock opera. More importantly, they are a missing link in the history of English rock. I don't think you can really understand the evolution of rock and roll without listening to this album.
Here's a YouTube video with most of the original lineup of The Pretty Things live from Abbey Road in 1998 recreating "S.F. Sorrow" in it's entirety along with some help from David Gilmour of Pink Floyd. (Skip ahead to 3:15 where the music starts.)