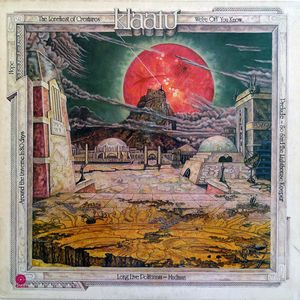 If you know one thing about the obscure prog rock band Klaatu, it's that in the late 1970s they were rumored to be the Beatles. Of course, that wasn't the case, as legions of Beatles fans later realized when they, you know, actually listened to the first Klaatu album. But they were a pretty good, if undervalued band.   
Haling from Toronto, these three studio musicians thought that "the music should speak for itself." Hence, no bios, photos or interviews with the band, not even credits indicating who played or wrote the songs. And since they were signed to Capitol Records, some bonehead reporter for the Providence Journal thought it must be the fab four reunited.  
At any rate, when all these Beatles rumors surfaced, sales for their first album soared. And admittedly, there are a couple of Beatlest-esque tunes on the first album, notably "Subway Sub Rosa" and "Little Neutrino." Meanwhile the band shrugged off the rumors since they were busy in London recording their second album, the rock opera "Hope," with the London Symphony Orchestra. And The Carpenters released had a hit single with their version of Klaatu's "Calling Occupants from Interplanetary Craft."  
And I've got to say, "Hope" is one helluva an album. Although it clocks in at just over 40 minutes, it is ambitious and grandiose musically and thematically. It tells the story of an ancient race or planet of space travelers and a lonely lighthouse keeper at the end of space or who the heck knows what. There is a story here, which is why I think this qualifies as a rock opera more than just a concept album, but I wouldn't be able to explain it to you. Still, I would put it up there with SF Sorrow by The Pretty Things. It's that good an album.  
While the whole album is excellent, I view "Long Live Politzania" as the best cut. Ok, and some of the vocals on this album do sound a bit like George Harrison but I think it's just coincidental. The guitar work on "Madman" is also excellent. The music has a '70s extravagance that you will either love or hate. There are elements that compare with Queen, King Crimson, the Beach Boys, fellow Canadians Max Webster and more.  
Unfortunately, at some point the truth behind the rumor ("Klaatu is Klaatu!") surfaced and there was a huge backlash against the band. This was unfortunate because the band had nothing to do with these rumors. The band recorded three more albums before breaking up.    
The first three albums are excellent while I consider the last two a bit more hit-or-miss. There's also an excellent box set called "Sun Set" which includes all of Hope with all of the London Symphony Orchestra sections fully restored. The albums are available on Amazon, iTunes and from the official Klaatu website.  
Since live footage of Klaatu is relatively hard to come by, here's a 1974 live performance on CBC Music Machine with a song from their first album.